Rear Admiral (Upper Half) Albert Jethro "A.J." Chegwidden, USN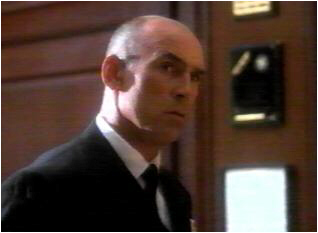 Judge Advocate General of the Navy
Rear Admiral (Upper half) Chegwidden began his career with the Navy as the Commanding Officer of SEAL Team 3 during the Vietnam War. Following his stint as a Special Warfare operator he became the captain of a deystroyer; which preceded his earning a law degree and joining the Judge Advocate General Corps. Prior to his transfer to Washington, in late 1995, A.J. was the head of JAG in the Pacific.
A.J. is a tough-as-nails former SEAL who has achieved succes in his varied military career; in his curent posistion he reports directly to the Secretary of the Navy and oversees all JAG officers who investigate and prosecute casees under military jurisdaiction. A no-nonsense offiial, he demands the best from his staff and is a man who enjoys action as much as the challenges of tough legal issues. Chegwidden is a highly decorated veteran of Vietnam, with aspirations to be the Chief of Naval Operations.
In late 1996, Chegwidden was seeing a judge, Laura Delaney, who was killed by an enemy of A.J.'s.
While stationed in Italy, the admiral had married the daughter of the local mayor, but it did not last. Chegwidden has one daughter, Francesca, who lives in Naples, Italy and is a fashion editor.

JAG Page
Character Bios
Cast Bios
Main Gallery
Contact Information
Sign Guestbook View Guestbook Links Email JMJ Bio
DJE Page
CB Page
JMJ Page