Welcome to Charmer's
J A G
homepage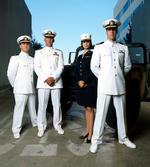 JAG, an acronym indicating both the Judge Advocate General and the Judge Advocate General Corps, is a military legal drama, broadcast weekly on CBS on Tuesdays at 8 pm EST. centered on an elite legal wing of the Department of the Navy. The Jag Corps is composed of both naval and marine officers trained as lawyers who investigate, prosecute, and defend those accused of crimes in USN or USMC service, from murder and treason to carrier crashes and terrorism. Lieutenant Commander Harmon Rabb, Jr., a former F14 pilot turned lawyer, is partnered with Major Sarah MacKenzie, an attractive by-the-book Marine, with whom he shares similar high standards, but clashes with when the two find themselves on different paths to the same place. With their naive, but able aide, Lieutenant Junior Grade Bud Roberts, a law student by night, who often surprises his superiors with his grasp on the law's most far reaching concepts, the JAG lawyers travel the globe seeking and exposing the truth. The Judge Advocate General, Rear Admiral A.J. (Albert Jethro) Chegwidden, is a no-nonsense former Navy SEAL who has the utmost confidence in the ability of his officers, especially the work of Harm and Mac.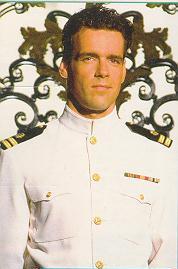 LCDR Harm Rabb (David James Elliott) the son of a decorated Navy fighter pilot who was shot down over Vietnam on Christmas Eve 1969 and is still Missing In Action (MIA), followed his father's footsteps to the cockpit of a Navy fight plane. Harm was on the track to becoming a top Naval aviator when he suffered a devastating crash while trying to land his F14 Tomcat on a carrier at night with pitching seas. His Radar Intercept Officer (RIO) was killed, but Harm was diagnosed with night blindness and cleared of all charges during the subsequent investigation. Rather than leaving the service, Harm transferred to the JAG Corps where despite his far-reaching legal powers, he faces a constant challenge from a military organization that take kindly to outsiders investigating matters they consider to be heir own business. The combination of this and his wish to honor his father, forces him to walk a very thin line between doing what is right for the Navy and what's right for the common good.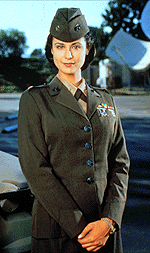 MAJ Sarah "Mac" MacKenzie (Catherine Bell), is a button-down, feisty US Marine Corps officer, one of the youngest women in the history of the Corps to attain this rank. An attorney by training she is a more than capable match for her partner LCDR Rabb; her credo is "rifleman first, attorney second." She has to stay strong to survive the physical challenges of the Corps and feels her training as a Marine makes her stringent training as a Marine makes her superior to any Navy officer. She has also had to work twice as hard to be accepted in the "man's world" of the Marines, and she has had to be tougher than most to gain her peer's respect. In her unrelenting demand for respect, she take her work at JAg very seriously and many time finds herself going head-to-head with Rabb, giving him her honest, straight-forward opinion.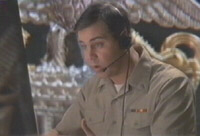 LTJG "Bud" Roberts (Patrick Labyorteaux) displays uncontrolled enthusiasm in his service as Rabb and MacKenzie's legal assistant. Harm and Bud first met when Roberts was a young officer aboard the USS Seahawk and he was so impressed with Rabb and the job JAG had done that he requested a transfer to Navy JAG. Bud's positive outlook, intrepid nature, and devotion to duty make him an important part of the team, while his quirky sense of humor and naivety make him an office favorite who often welcomes comic relief. Bud is also and expert in communication, his technical skill and knowledge of codes and computers comes in handy on many JAG investigations.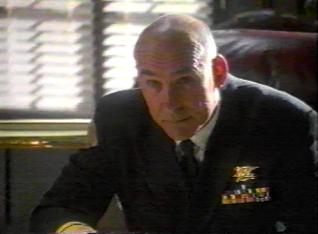 RADM A.J. Chegwidden (John M. Jackson) is a "tough-as-nails" former Navy SEAL who has achieved great success in his varied military career. In his current position he reports directly to the Secretary of the Navy and oversees all JAG officers who investigate and prosecute cases under the jurisdiction of the Navy. He demands the best from his staff and often throws the toughest assignments to Rabb, because he wants his charge to be the best. Chegwidden, who enjoys action as much as the challenge of tough legal issues, is a highly decorated Vietnam veteran with ambitions to be the Chief of Naval Operations(CNO).

Ensign Harriet Sims is patient, hard-working, efficient, and sweet, but a bit naive, she was transferred from the USS Seahawk, where she first met Bud (her fiancé), Harm, and Mac, to the Inspector General's office in Washington; from this office she came to JAG on a temporary assignment and has been in Falls Church since. In her attempt to adjust to her new surroundings and position she will turn to Bud for support, their "military-based" relationship will not always be smooth operations.

Clayton Webb is the Special Assistant to the Secretary of State that harbors ambitions to be Secretary of State, and maybe even President someday. Webb always puts his career first, placing political correctness and doing what is right a distant second and third. Clayton is officious and self-important, and is often problematic for Harm and Mac; Webb alternates getting in the duo's way and giving them aid. Harm and Clayton rarely to eye-to-eye, even when they must work together to achieve a common good; though Harm is never sure where Webb's loyalties lie, because of his mysterious connections to the Central Intelligence Agency (CIA). Webb is the man everyone loves to hate.


Character Bios
Cast Bios
Photo Gallery
Contact Information
Sign Guestbook View Guestbook Links Email
DJE Page
CB Page
JMJ Page